Cotton Nitrile Coated Safety Gloves, Safety Cuff,Half Coated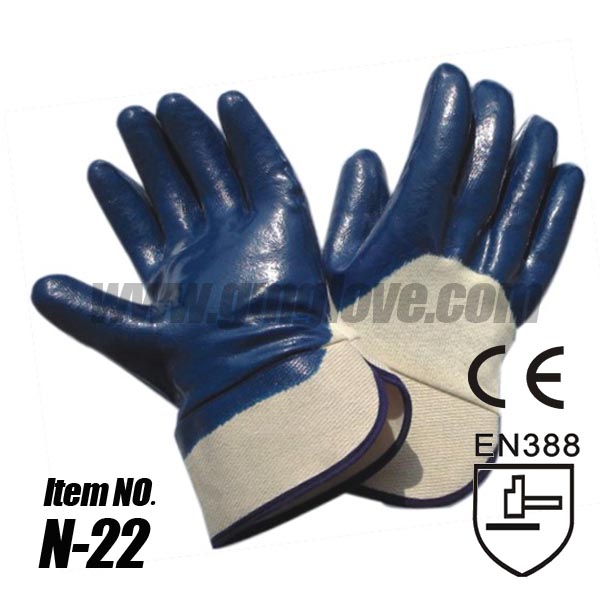 Product name : Cotton Nitrile Coated Safety Gloves, Safety Cuff,Half Coated
Item No: N-22
Material: Blue Nitrile & White Cotton
Coating way: Half Coating
Size: 10
Feature:
1) Nitrile coating provides resistance to grease, oils, fuels, punctures and snags.
2) Resistant to most chemicals.
3) Soft cotton sewn gloves, your hands feel comfortable performance.
4) The design of the gloves Knit wrist, so close to the wrist, the protective performance better.
5) half coating designed to increase the permeability of the hand.
6) Lightweight gloves.
Cuff flannel gloves with half Nitrile dipped also is known as blue cotton nitrile coated gloves, knitted wrist. half-dipped, mainly refers to the back of gloves without coating surface, which also is called open back gloves in some areas,. Compare with full-dipped gloves, this type of gloves possess of relative good ventilation to use more comfortable in the special environment.
Package:
(1) 12pairs per dozen, 20 dozen /carton, 480 pairs/ bags;
(2) We can be customized logo, accept OEM business.
Application:
Assembly application when handling small to medium abrasive parts, forestry, logging and lumber operations, general maintenance, general material handling, handling of fabricated building materials such as concrete block, brick, tile and lumber, heavy-duty handling of castings, cores and fabricated metals, refuse collection, working with and managing cables..