Working Gloves List
Help Information
Email: sell@gmglove.com
MSN: zhuhuzhi@msn.com
Contact Person: Miss Anna
Mob Phone: 0086-135 6360 9993
Tel: 0086-0536-235 2113
Fax: 0086-0536-235 2113
Address: Yao Gezhuang Work Gloves Industry Park of Gaomi,Shandong Province,China.

Company News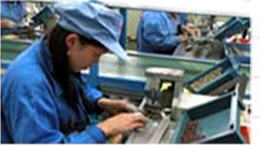 Huanyu is one work gloves manufacturer in China, our factory established in 1998 and specialized in producing sorts of coated gloves, including latex coated work gloves, nitrile coated work gloves and PVC cold-proof gloves used in special working environment. we have incomparable advaantage in gloves price and quality than trader.On one hand, as work gloves manufacturer, we can support work gloves to customers, so decrease intermediate links and reduce customers` purchasing cost; on the other hand, we adopt strict management in the whole process of gloves manufacture, rank from the purchasing of material to production and packing,then could support stable quality for customers. << Detail..
Humans are not only differentiated from other beasts for our intellectual capacity but also for the structure of our hand. We built amazing creations like, The Great Wall of China, Taj Mahal, Pyramids, rockets that landed on moon and satellites that explore the secrets of the deep dark space, all with the help of our hands. The pair of hands each human has is invaluable and that is why it should be protected at any cost. It not only helps us to engage in our routine chores but also to do whatever we like. Gloves are a great invention made in order to protect our hands from all sorts of harsh elements and conditions. Specially when engaged in work, there are special gloves that you must use if you need to protect your hands from accidental injuries, chemicals and other issues that can arise during the production process and that could change your life forever.
Among all varieties of hand gloves used in the world like
coated gloves
, wool gloves,
welding gloves
, Chinese work gloves made of high quality material have gained a worldwide reputation for its unparallel quality, flexibility, ergonomic design, reliability and low cost. Chinese work gloves are customised to match all needs of labourers, mechanics, technicians and other professionals working in different industrial fields such as construction and development, marine industry, manufacturing plants and many more. Can these gloves only be used for commercial purposes? Of course no! You can protect your hands form dirt, dust, chemicals and adverse whether conditions when you are engaged in domestic work like, gardening, washing, cleaning etc. The Chinese work gloves come with a promise of high quality because of the top-notch technology used in the manufacturing factories. All the gloves that are released to the market are manufactured using the finest materials adhering to industries best practices. Thus, these gloves are durable more than any glove you could find in the market. The wide array of work gloves available is another key factor that Chinese work gloves is sought out in every industry around the globe.
Latex coated gloves
, PU based gloves,
nitrile coated gloves
and
cut resistant gloves
are just a handful of the large collection that has turned out to be a multi-million dollar business of the developing Asian power hub. To get the best Chinese work gloves for a competitive price for your workplace, please contact sell@gmglove.com.
Copyright © 2015 Shandong Gaomi Huanyu Work Gloves manufacturer
E-mail:
sell@gmglove.com
Mobile Tel:
086 -135 6360 9993
Tel:
086-0536- 2539993
Fax:
086-0536-235 2113
Webmaster:
admin@gmglove.com
Address:
Yao gezhuang Work Gloves Industry Park of Gaomi,Shandong Province,China.
The
Site Map
of
China Work Gloves