Safety Cuff Nitrile Gloves | Cotton Nitrile Fully Coated Industrial Gloves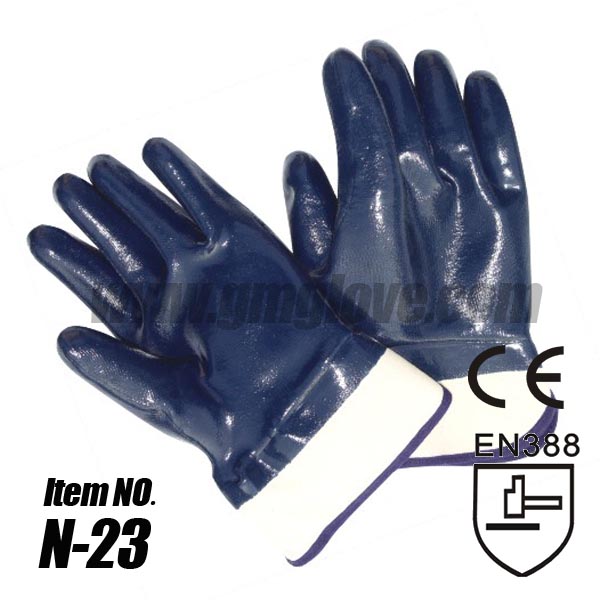 Product name : Cotton Safety Cuff Nitrile Gloves, Fully Coated Industrial Gloves,
Item No: N-23
Material: Blue Nitrile & White Cotton
Coating way: Fully Coating
Size: 10
Feature:
1) 100% Cotton jersey lining more comfortable, warm hand.
2) The nitrile coating of gloves is relatively thick, with good anti-piercing, anti-cutting role.
3) Characteristics of impact by the nitrile,This industrial gloves have good chemical resistance & oil resistance.
4) Fully coating design, comprehensive protection for the palm of your hand is not hurt by outsiders.
5) The role of the Safety Cuff is to enable workers to more easily take off and wear.
6) Nitrile coating color can be changed according to customer requirements
Nitrile dipped gloves are adopted knitted velvet as lining, knitted fabrics usually is used for underwear or thermal underwear after brushed treatment, comfort and thermal performance are more prominent for introducing such cloth lining, especially in the cold north and field operations.
Package:
(1) 12pairs per dozen, 30 dozen /carton, or according to customers' requirements;
(2) We can be customized logo, accept OEM business.
Application:
The main use of this nitrile industrial gloves in oily environments, such as oil exploration, refining, transportation.