13 Gauge Nylon Nitrile Coated Gloves , Gray yarn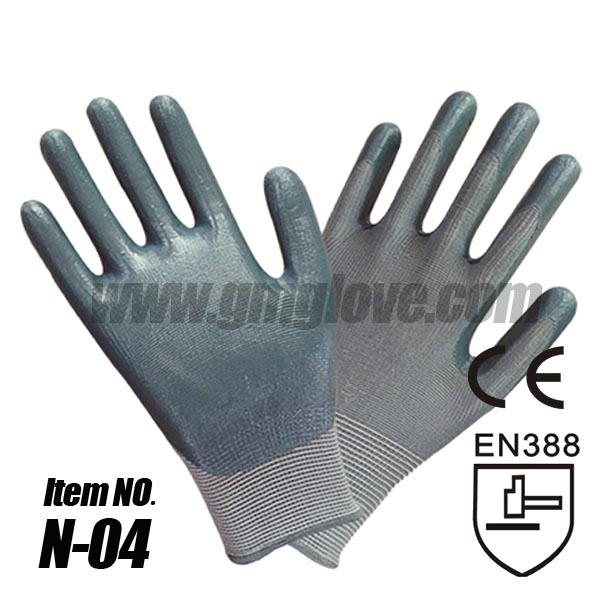 Product name : 13 Gauge Nylon Nitrile Coated Gloves, Gray yarn
Item No: N-04
Material: Gray Nitrile & Gray Nylon
Coating way: Palm Coated
Size: 8; 9; 10; 11
Feature:
1) Without silicon nitrile rubber coating
2) Can be resistant to oil and grease, safety and environmental protection
3) nylon gloves close to the periphery of the hand
4) Washable,Re-use
5) Permeability, and feel more comfortable
6) Gray coating & gray nylon, is not easy to dirty
Nitrile coated gloves are a type of disposable glove made from synthetic rubber. The compound Nitrile is a co-polymer and its production process is relatively simple and quite similar to that of rubber production. The main features of seamless knit nylon gloves are its good grip and dexterity. Solid nitrile coated fingers and palm usually provide abrasion, superior grip, extremely thin and very durable, breathable back for comfort
Package:
(1) 12pairs per dozen, 30 dozen /carton, or according to customers' requirements;
(2) Logo Printing based on customers' requests, OEM is acceptable;
Application:
Petrochemical processing, paint printing, automotive and mechanical maintenance, cleaning and maintenance work.