Orange Fluorescent PVC Coated Work Gloves For Winter, Sandy Palm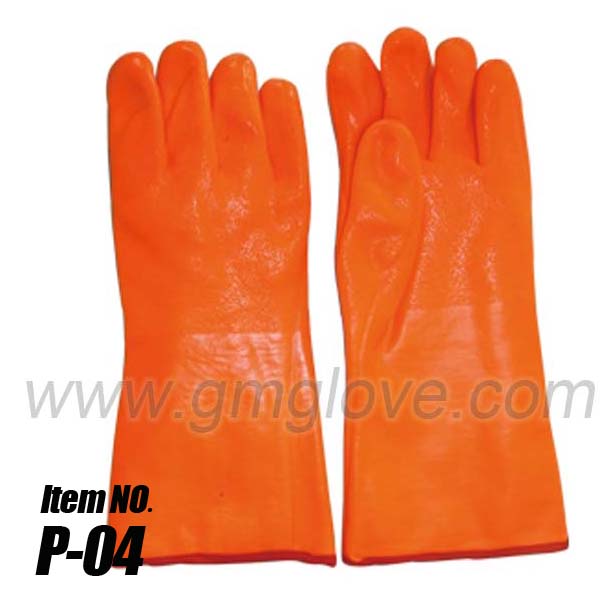 Product name :
Orange Fluorescent PVC Coated Work Gloves For Winter, Sandy Palm
Item No: P-04
Material: orange PVC & Foam Insulated Liner
Coating way: fully coating
Size: 27cm/30cm
Feature:
This long PVC coated work gloves introduces advanced produce craft, and adds fluorescent in the PVC coating, so gloves still have clear outline in the dim light condition. It raises workers` alertness and avoids accidental injury effectively. The designing of barreled increases protection to elbow and protection is more comprehensive.
The using of Foam Insulated Liner enhance thermal and comfort of gloves, which prevent hands frostbiting when work in the cold winter. sandy palm finished improves the friction between gloves and objects when they are in touch, non-slip effect is obvious.
The natural surface of the PVC with sand, and provides an excellent oil-resistant, 100% cotton liner bound seamless glove making more convenient and suitable. It will be very soft and durable.
Package:
(1) 12pairs per dozen, 20 dozen /carton;
(2) Logo can be printed on the back of gloves according to requirement; and packing can be made according to customers` request as well.
Application:
Used in various cold winter conditions, such as outdoor mechanical repairs, fishing and oil exploration.