Jersey with Latex Winter Gloves, Crinkle Finish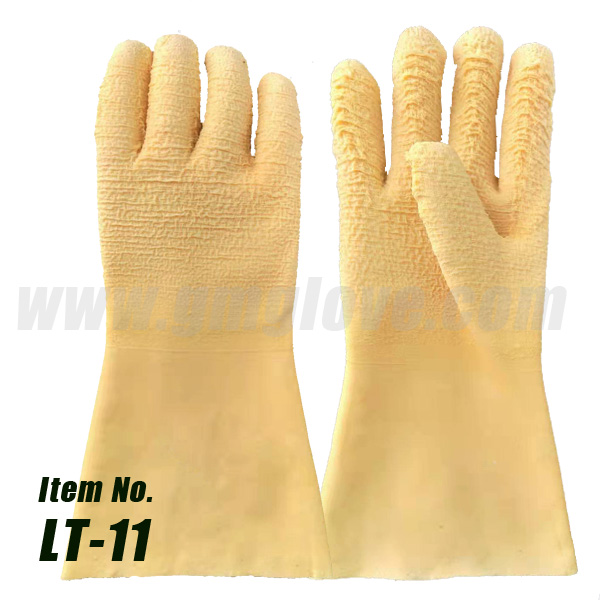 Name: Jersey with Latex Winter Glove, Crinke Finish
Item No: LT11
Liner: Jersey
Coating: Latex
Cuff: Gauntlet
Finish Style: Wrinkle
Dipped Style: Full coated
Size: XL(10#), XXL(11#)
Length: 27cm, 30cm, 35cm, 40cm and 45cm
Color: Yellow, Orange, Green or Customized
Logo: Silk screen printing, Heat tsransfer, Washing label., Woven label
Package: 12 pairs/OPP bag, 72 pairs/carton or customized
OEM/ODM: Yes
MOQ: 500 Dozen
Feature:
Add high quality of cutting resistance for meat and poultry skin operators
Suitable for other industries that require cutting resistance and cold resistance
Latex dipped has good abrasion and tear resistance, the wrinkle treatment provides excellent wet & dry grip
Jersey lining provides comfort and flexibility to keep hands warm while enhancing comfort
Aplication:
Fisheries, frozen food or heat containers treatment, glass processing, sheet metal assembly, laboratory, agriculture, plant maintenance.
Safety gloves are coated with natural rubber latex for superior comfort and cut resistance. The soft jersey knit liner provides excellent flexibility and comfort. This heavy-duty multi-purpose gloves is ideal for handling sharp edge materials, such as glass, scrap metal and metal sheets. Jersey with latex coated glove provides excellent cold resistance for professionals who hand frozen meat. It also offer excellent cutting protection, which is ideal for machine operators when sharp blades have risk. Grip wrinkles for better wet and dry handling.
The jersey liner reduces heat transfer significantly while keeping your hands dry and comfortable by absorbing sweat. Cotton jersey gloves is cool, comfortable and sweat-absorbent. Premium latex coating with wrinkled palm. Latex performs well in the temperature range of -18℃ to 149 ℃ degrees. Moreover, because latex can withstand a variety of temperatures, gloves can be used in both moderate and hot conditions with good puncture resistance and wear resistance. These gloves are very popular in the commercial fishing industry because of their excellent grip, high flexibility and good wear resistance. The rough surface of the hand provides excellent wet/dry grip. Although it is not waterproof, the excellent coating not only provides excellent grip, but also reduces absorption of water, oil and grease at maximum. Although it is not a true anti-vibration (AV) glove, but also tends to absorb and reduce vibration.