PU coated gloves
PU coated gloves are also known as PU top fit coated gloves and
PU palm coated gloves
. They are divided into two types according to performance, namely normal PU gloves and anti-static PU gloves. Gloves are completely covered by polyurethane in palm with specially treated, providing good anti-slip properties and preventing contamination of sweat and particle in the palm of hand.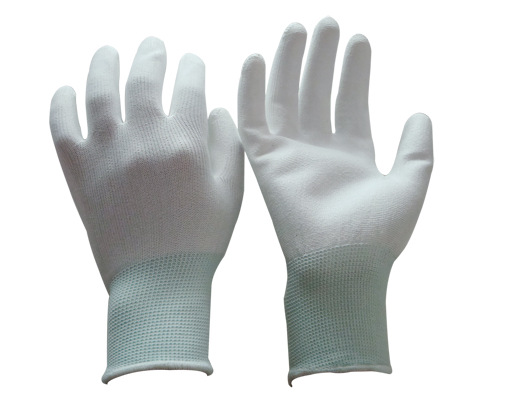 1).Normal gloves type
Material:100% nylon and PU resin coating.
Production method: apply a layer of PU resin to the finger and palm of knitted polyester glove, which not only increases the anti-slip performance, but also increases thermal insulation performance. It is an indispensable product for precision electronic production lines.
Performance:
1.PU coating has acid & alkali resistance, which can increase slip resistance effectively and avoid slipping when grab items. At the same time, it will not leave fingerprints and improve productivity.
2. Anti-pollution, anti-skid, heat-proof, wear-resistant, easy to absorb sweat and good ventilation.
3. User feels more comfortable and fit because of the extreme flexibility
2) Anti-static glove type
material: 80% non-dusting nylon yarn and 20% high performance copper fiber/carbon fiber woven, applying PU resin to fingers or palms.
Performance:
1. The conductive coating resin is added to PU coating to make the best antistatic effect, it can avoid operator' s fingers contacting with electrostatic sensitive components directly and discharge static charge of human body safely.
2. Good slip resistance and wear resistance.
3. Good gas permeability and washable.
Surface resistance:
Carbon fiber: 10^7Ω-10^8Ω
Copper fiber: 10^5Ω-10^6Ω