Lightweight Palm Dipped PU Gloves,Nylon Knitted Shell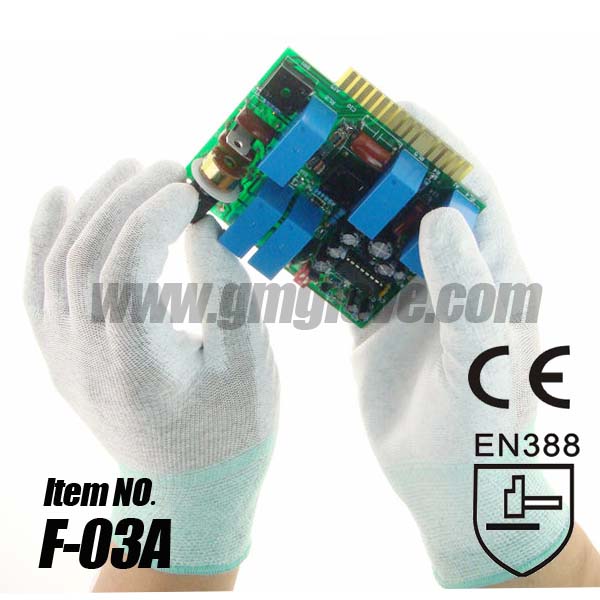 Product name : Lightweight Palm Dipped PU Gloves,Nylon Knitted Shell
Item No: F-03A
Material: White PU & Nylon Knitted
Coating way: Palm Dipped
Size: 10/9/8/7
Feature:
Palm Dipped PU Gloves are excellent for use in any fine assembly work where contamination is an issue and protect hands from nicks and minor cuts, while allowing for a bare hand feel during tasks where it is essential.
PU dipped safety gloves provide better feel and excellent comfort, snug fit brings about a special sense of touching. so that it can be applied to general maintenance by professional in many areas, as well be made use of precise & delicate assembly work, product testing, handling small metal & plastic parts and components, microelectronics, light automotive applications, precious metals, biological cultivation, optical processing and photographic equipment.
The PU Gloves lightweight is made of high quality of nylon knitted, comfortable 13 Gauge nylon with more fit provide you with a sensitive touch. More commonly used in works that have relative high demand for touch and flexibility. For instance, precise & delicate assembly work electronic components assembly, etc.
Package:
(1) 12pairs/ OPP bag, 30/20 dozen / carton; or according to customer` s requirement
(2) We can be customized logo, accept OEM business.
Application:
Glass business, fixed blades, automobile manufacturing, ceramic industry, metal processing. Can also be used in the aerospace, automotive, construction, glass processing, metal pulp and paper, plastics, utilities, recycling and salvage