PU Safety Work Gloves, Builders Grip Gardening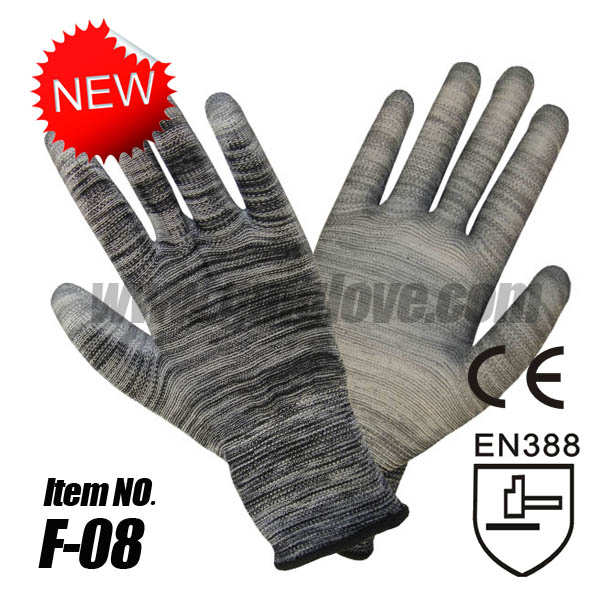 Product name : PU Safety Work Gloves, Builders Grip Gardening
Item No: F-8
Material: White PU & Nylon Knit
Coating way: Palm Coating
Size: 10/9/8/7
Feature:
This type of PU safety work gloves can provide the highest flexibility, comfort and grip in the wet and dry environment. Hands are able to breathe freely and prevent hand from fatigue without the coating in the back of gloves. While high mechanical properties and strong resistance to abrasion & tear is another highlight of PU work gloves.
The thin gloves let you feel the same sense of touch as bare hands, and assure hands` safety when confront with the risk of scratches and cuts.
The biggest difference between this type of safety gloves with other coated gloves lies in the color of glove liner, ordinary gloves are woven into yarn by using one single color, while this PU safety work gloves are mixed spinning by two textile yarns, special lines make work gloves look more beautiful, furthermore, collocation of gray color and white color with more powerful dirt-resistance.
Note: The material of this type of gloves is the same as F-10 of PU Garden Glove, the difference lies in the color of yarn.
Package:
(1) 12pairs/ OPP bag, 30/20 dozen / carton; or according to customer` s requirement
(2) We can be customized logo, accept OEM business.
Application:
This type of safety gloves is ideal for carpenters, assembly processing, construction workers, precision engineering, landscape work, refuse collection, assembly workers and opinions.