13 Gauge Nylon PU Finger Gloves, Black ESD & Exam glove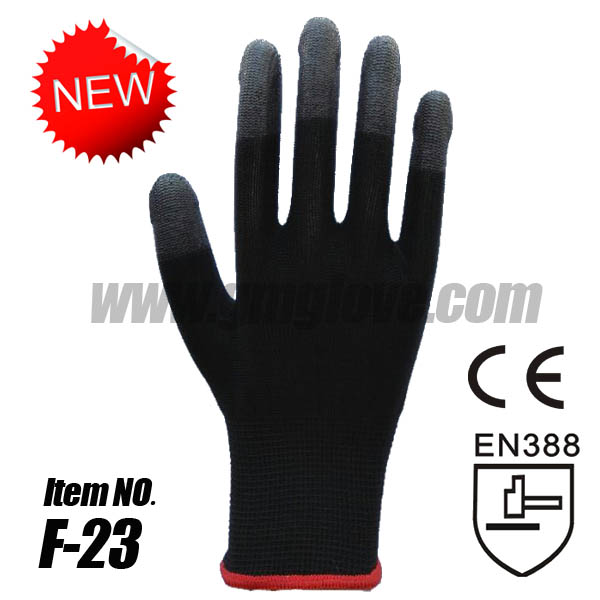 Product Name:13 Gauge Nylon PU Finger Gloves, Black ESD & Exam glove
Item No: F-23
Material: Nylon fine knit liner & polyurethane
Coating way: finger Coating
Size: 7-11
Feature:
Nylon PU finger gloves are similar with ordinary
Nylon PU coated gloves
, both of them are based on 13 gauge or 15 gauge Nylon liner, then dipping liquid polyurethane, the difference lies in different dipped mode, compared to the traditional
PU palm coated gloves
, PU finger gloves have prominent on the air permeability, palm and back of the hand are wrapped by elastic liner core, medium elastic fit the hand closely, so discomfort will not be produced on hands even if long time wearing. The outstanding breathable performance of PU finger gloves make operator not sweat easily during working hours, to reduce the possibility of soiled goods
ESD glove usually is one kind of glove, it does not refer to one style or one material of a glove specifically, this glove is mainly used in clean room or for touching sensitive electronic components. During gloves wearing, it is easily to generate static electricity because of inevitably touching of fingertips, while static electricity will attract dust to pollute products from working environment; moreover, electrostatic may breakdown some sensitive electronic components during releasing process..
Exam glove is one catalogue, it does not refer to one specific gloves. In the process of some production, QC will check the quality at finally. For example, workers must be ensure the clean of hands when touch with electronic components or jewelry, avoid dust and static electricity etc., at the same time, it also requires gloves will not affect the flexibility of hands when wearing them.
Package:
(1) 12pair / bag, 360 pairs / carton or 960pairs / bag
(2) Packing and logo could be made according to customers request, in current, the packaging is 12 pairs are put in one neutral packaging bag, then 960 pairs for one bag.
Application:
This style of glove is suitable for using in a variety of clean rooms, small electronics factory and circuit board PCB factory, TFT LCD factory, precision assembly, semiconductor factory, CD plant, and laboratory